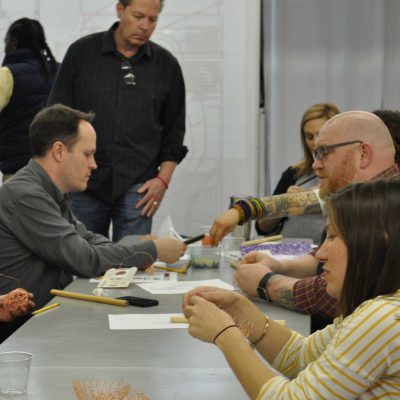 More Than Math is a professional-development program that integrates visual art into the mathematics curriculum for 3rd through 8th grades. Utilizing artworks from the Museum's Collection as the basis for teaching math standards, More Than Math introduces and explores concepts shared by mathematics and the visual arts such as balance, geometric form, pattern, perspective, proportion, and symmetry.
Randy Harter, retired math specialist for Buncombe County Schools, Asheville artist Kenn Kotara, and Museum educators lead these interactive, hands-on teacher professional-development workshops for local WNC math teachers. Participation in the More Than Math program also includes field-trip admission and guided tours for your class to the Museum as well as access to the interactive More Than Math website. The More Than Math website includes grade-specific mathematics curriculum addressing the NC Standard Course of Study, lesson plans/resources, and a virtual art gallery.
Grades 3–8 math teachers are invited to apply to participate in this professional-development workshop. All participants receive a $75 stipend for the day. Apply here.